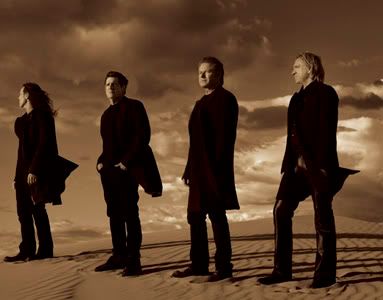 now lets start with one of my favorite bands.... "The Eagles"
Their songs are fantastic, i always listen to their songs it seems to ease whatever burdens i have. One of my favorite is their single
"Love Will Keep Us Alive",
i dedicated it to my wife, The lyrics actually fit into our love story.
I also like the song
"Desperado"
,
"The Last Resort"
,
"Hotel California"
though these songs have deeper meaning than it actually sound when they are playing, i can feel the heart, the emotion on those songs, they aren't just made to be famous but to express their feelings & touch lives of the listeners. I hope you would have time to listen to their songs, you wouldn't regret a single second. It may be better to hear them live, they aren't like other artist who edits their voice to beatify the song, you wouldn't notice a change in their(The Eagles) voice, and that my friend is pure God given talent!
Click on the links to view their Lyrics & Chords...
You can also access to their website
HERE
.